The federal government has jurisdiction over activities on the Atlantic Outer Continental Shelf between 3 – 200 miles out to sea and handles the permitting of nearly all offshore wind lease areas through the Bureau of Ocean Energy Management (BOEM) (source). To ensure that a project is constructed in an environmentally responsible manner and does not significantly disrupt other ocean-users, the federal government extensively studies a project area and construction plan before issuing permits, a process that can take 10 years or more.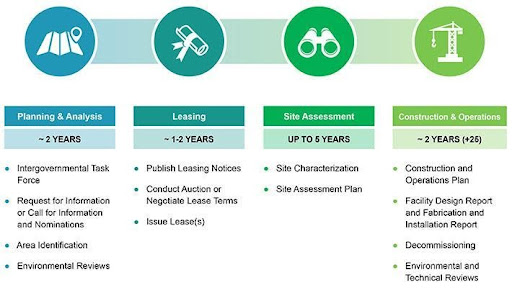 (source: BOEM)
BOEM began the process for identifying suitable sites for offshore wind development in 2010 by bringing together various stakeholders, including local governments and tribes, in what is called an Intergovernmental Task Force. This siting process worked to identify potential lease areas that did not adversely impact environmentally sensitive areas or significantly interfere with other ocean user activities like military operations and shipping. Normally, a wide area, sometimes called a Call Area, is significantly narrowed down over years of stakeholder engagement into Wind Energy Areas (WEAs) and finally lease areas. After identifying suitable areas off the Delmarva Peninsula, BOEM solicited commercial interest from project developers. In 2014, US Wind won a competitive auction for the wind area off the Maryland coast for $8.7 million. The Delaware wind area did not receive sufficient commercial interest to warrant an auction, and in 2012 was granted to Bluewater Wind Delaware; the area was later sold to current leaseholder Ørsted. A more detailed history of each lease can be found on BOEM's website.
BOEM's Webpage on Maryland State Leasing Information (Source)
BOEM's Webpage on Delaware State Leasing Information (Source)


With leases secure, each project must go through years of evaluation and analysis by BOEM to ensure the projects are in the public's interest and built in an environmentally responsible manner. This will include reports on potential impacts to marine and avian species, navigational safety, fisheries, and economic development. This review process will conclude with a Construction and Operations Plan (COP) in which project developers explain in detail where turbines and cables will be located and how they plan to construct, operate, and decommission the wind projects.
In all stages of siting, collaboration, and analysis, public engagement is essential and encouraged.
Learn more about BOEM's rigorous permitting process here (Source).
State Power Procurement Requirements
State governments play a crucial role in offshore wind development by passing laws or enacting policies that require offshore wind power to be part of a state's sources of energy. Maryland is one of at least ten states that currently require or have set goals to develop offshore wind power. States can either enter contracts with a wind developer to purchase power directly or require state utilities to source a percentage of their energy from offshore wind projects. As part of this process, states create standards to ensure projects are cost-effective, provide best value to electricity ratepayers, incentivize local economic development, utilize local ports, and hire local labor.
<<Chart of states active in Offshore Wind>>
Maryland's laws and policies require any project receiving an Offshore Wind Renewable Energy Credit (OREC), the state's procurement mechanism, provide a positive net benefit to Maryland's economy, public health and environment. Maryland's OREC process also ensures offshore wind projects conform to labor standards, and include minority, women, and veteran-owned businesses participation in the local supply chain. More details about how Maryland procures offshore wind power in the history section. <<link to Maryland's offshore wind history>>