Offshore wind harnesses the power of wind to generate clean, renewable electricity. Wind power is generated by converting kinetic wind energy into mechanical energy, and then electric energy. Blowing wind turns turbine blades connected to a rotor, and the rotor then rotates drivetrains or gearboxes to generate electricity. From there, the generated electricity travels by cables to offshore and onshore substations, which connect to the electricity grid where it is delivered to homes and businesses.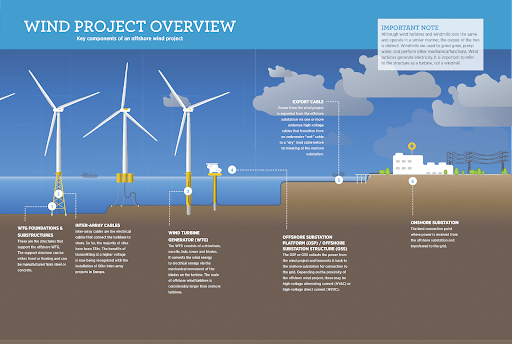 Parts of an Offshore Wind Power Generation System
Wind Tower Generator Foundations & Substructions: These are the structures that support the offshore wind turbines. The support structure can either be fixed to the ocean floor or utilize floating turbine technology that moors the floating foundation in place. The structures are manufactured from steel or concrete. 
Inter-Array Cables: These cables deliver power from each turbine to a centralized offshore substation or multiple substations.
Wind Turbine Generator: The wind turbine generator consists of a rotor (blades & hub), a nacelle (which houses the components generating electricity), a tower, and a transition piece that connects the tower to the foundation. Towers and transition pieces are made from steel and concrete, and blades are constructed out of composite materials.
Offshore Substation Platform or Structure: The offshore substation collects the power from the wind project and prepares it to be sent to an onshore substation.
Export Cable: Power from the wind project is exported from the offshore substation to an onshore substation via one, or more, export cables. 
Onshore Substation: Export cables deliver power to an onshore substation that connects and synchronizes it to the grid.
Want to learn more? Visit the federal government's Office Energy Efficiency & Renewable Energy (source).